LASFIT 3" PODS OVERVIEW
Lasfit focuses on automotive LED lighting product research to bring you high-quality and high-performance LED lights. With patented technology and custom-engineered TIR optics, our 3" pod lights will bring the most advanced experiences for you on the trails. We aim to provide highly professional products for off-road enthusiasts. 
Lasfit 3" led pods are so versatile mounted and well fit for Jeep, Ford, Toyota, GMC, Chevrolet, Ram, Subaru, Nissan, Lexus, Rivian, and a variety of other vehicles.
Purchase Wiring Harness Kits(DT Plug) 
Why Choose TIR LED Pods?
Standard reflector optics allows light to escape before it touches the reflector. This resulted from a decrease in light output and performance. Instead, the total internal reflection (TIR) optics can capture all the light from the LED chip and direct it to where it wants to be. TIR optics improve light output and control of lights over the reflector topics. With TIR optics, you get ultra-high-output and high-efficiency lighting.
Based on the working principle of TIR optic, lights are more controllable. The light output from the TIR optics is more focused and sharper than the standard reflector optics, and it dramatically reduces glare.
We tested two different types of LED pod lights. One is the reflector, and the other one is the Lasfit TIR LED pod.  With the benefits of TIR optics, even in a lower wattage, the Lasfit LED pod can provide superior visibility and outperforms the reflector pod lights in every way.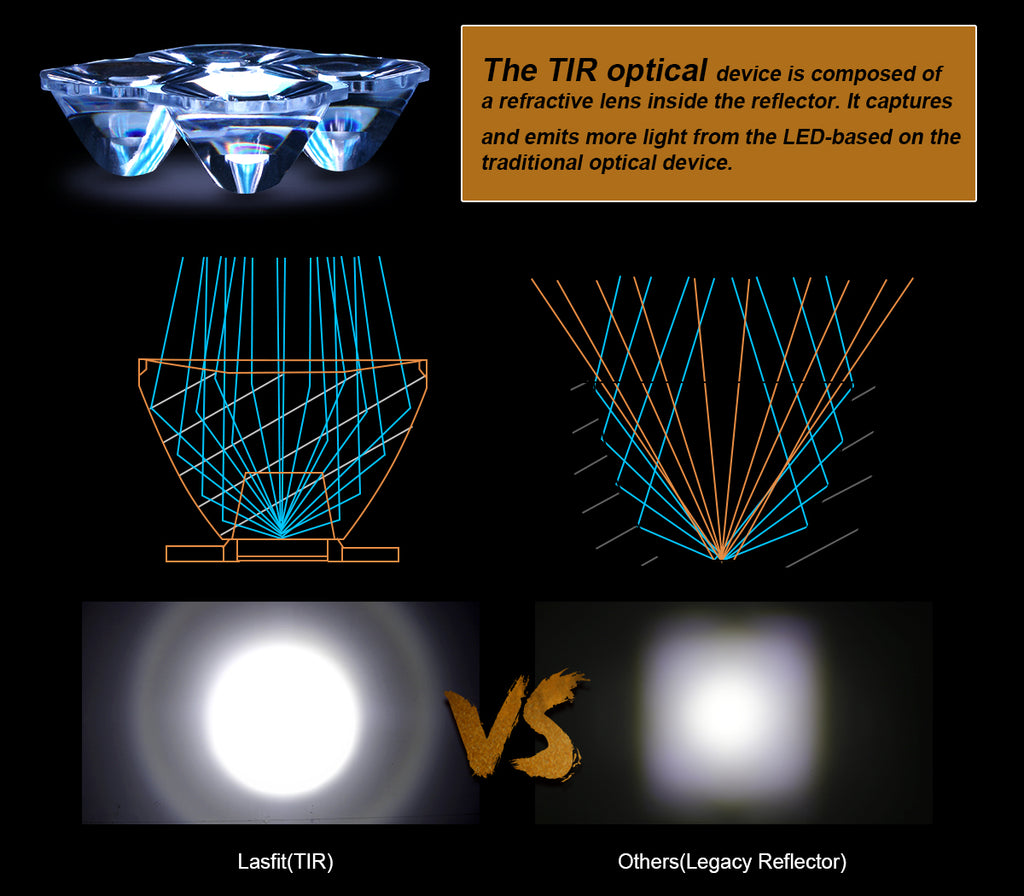 Four types of the output beam pattern and two colors (white and yellow)
Spot: See Long Distance: Spot Lights produce a more focused beam of light that can travel far ahead of the vehicle. These types of lights are extremely bright but illuminate a smaller area, as the light beam is not a spread out as other types of lighting.
Flood: Super Brightness See Wider Range: LASFIT LED pods equipped with high-performance automotive-grade LED chips. Floodlights produce an even spread wide beam pattern, great for rural or wide-open areas. They are typically used as work lights or backup lights to see the broader area nearby. It helps to see clearly on any area when traveling or campground.
SAE Fog: The SAE fog lights can be used on-road, not just off-road. 6000K crystal white light, 1728LM(measured output), 2000LM(Raw Output), much brighter than the stock halogen fog lights. These SAE fog lights provide a very wide beam with a flat horizontal cut-off, allowing no light above the cut-off horizon, and lit the area in front of your vehicle. The perfect range of great visibility will help you cut through the night.
SAE Driving: SAE driving is commonly used as a supplement to the high beams. It effectively improves the view range with 6000K color temperature and produces a rectangular-shaped beam that can reach further and broader than the headlights. Additionally, SAE driving can be used for general illumilation.
Please Note: SAE Standard ONLY applies to Fog and Driving patterns in White color. Yellow fog/driving pods have the same output standard with the white ones designed for on&off road use, with little possibility to blind others on the road.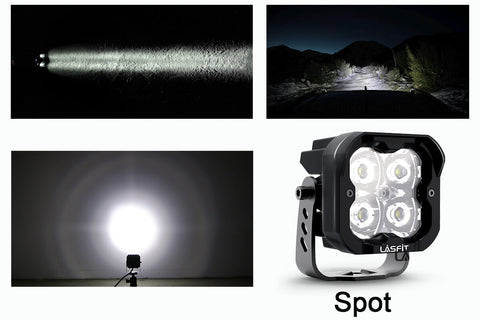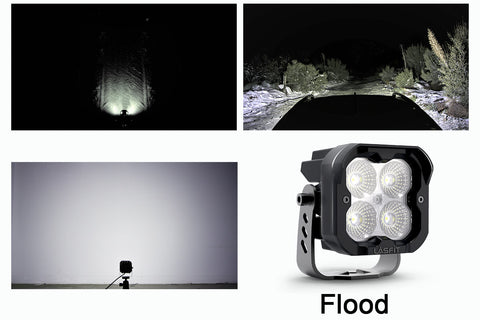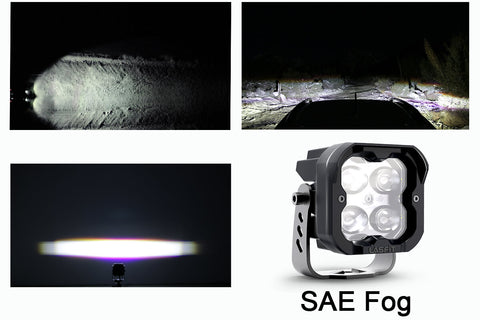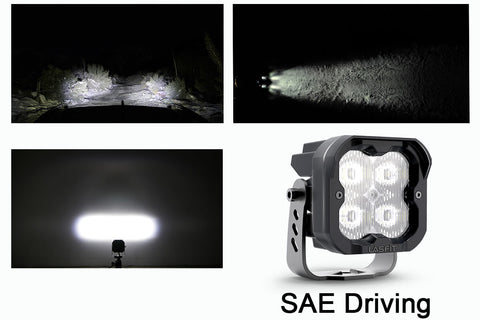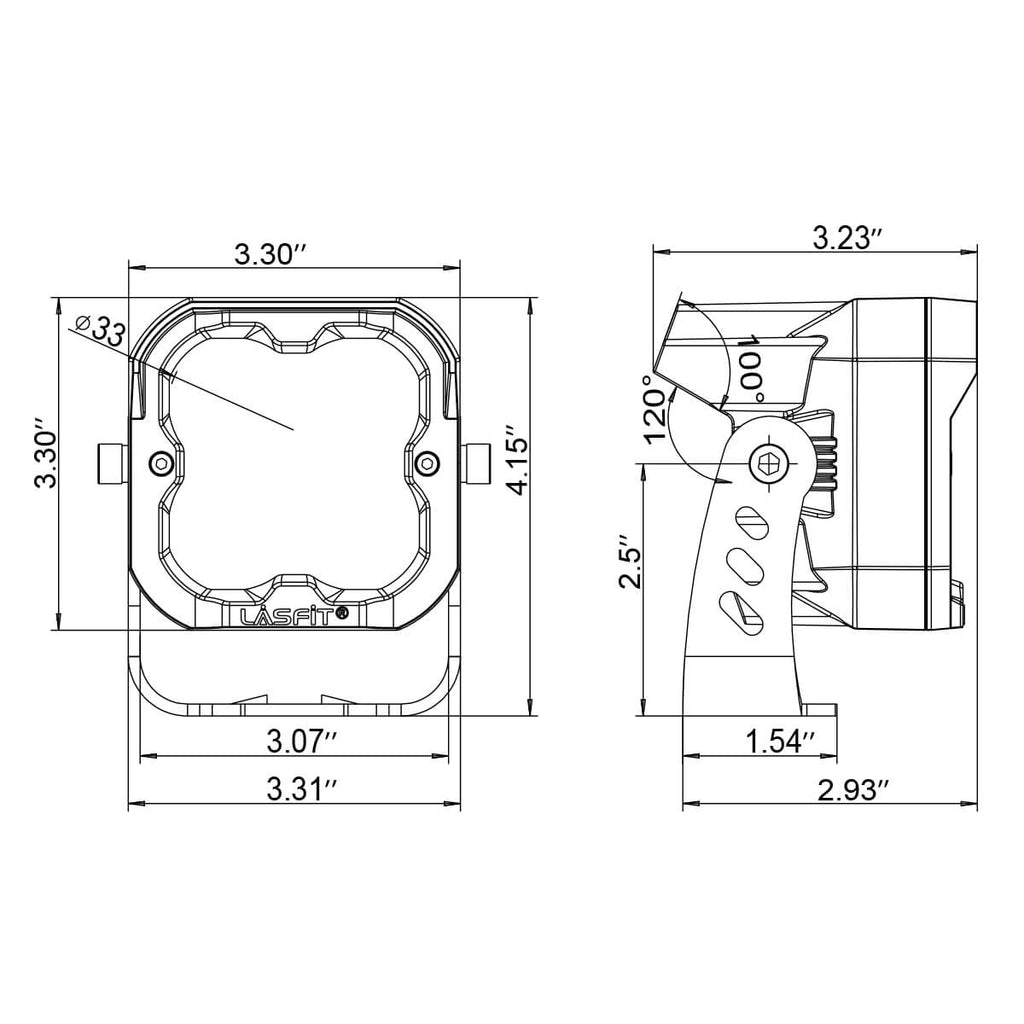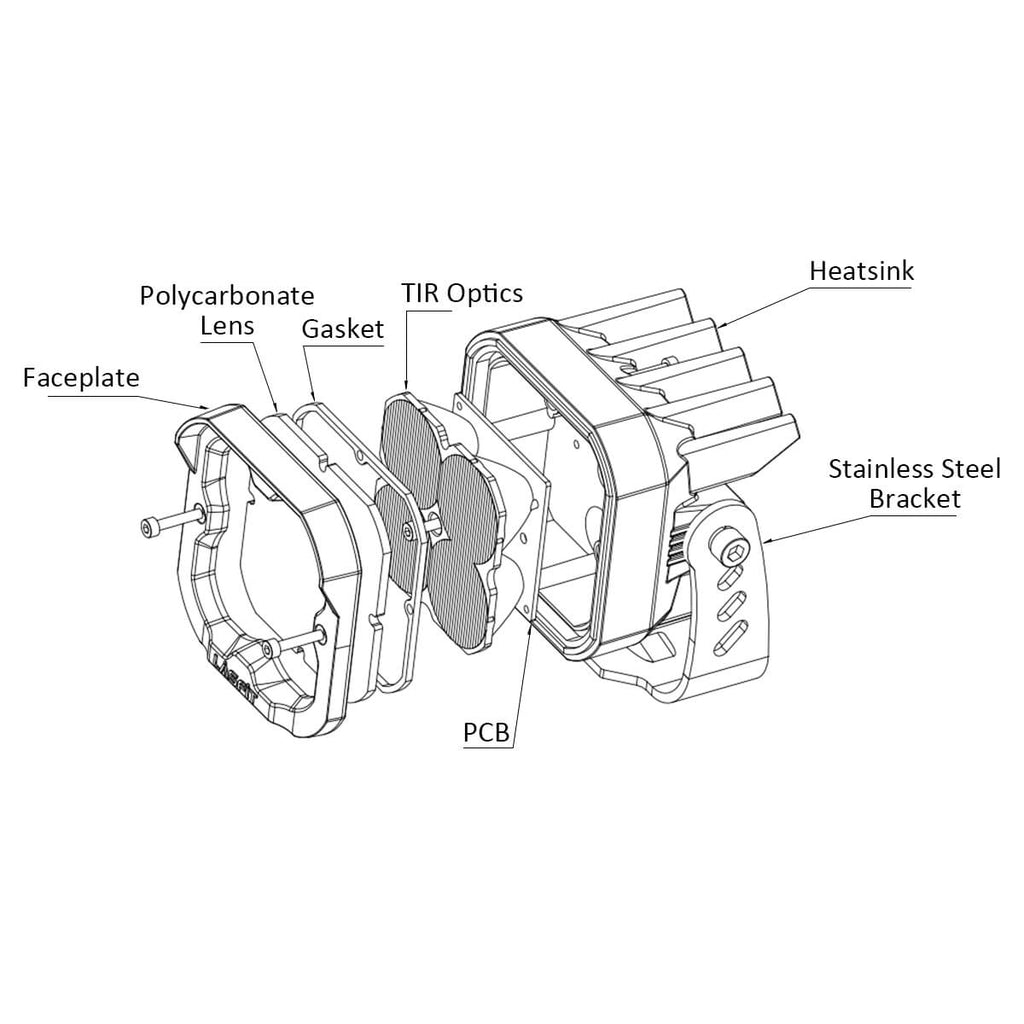 Specifications:
Input Voltage: 9-36VDC
Input Power: Sport 18W / HP 36W
Current Draw: 1.3/2.7 amps @ 14.2V
Operating Temperature: -400F to1850F

Weight: 1.25 lbs each (without bracket)

Intrusion Ratings: IP67 Weatherproof
What's included in the box:
· Two(2) 3'' LED Pods
· Two(2) Deutsch-style wire pigtails
· Two (2) Mounting brackets and hardware
 Warranty:
* 45 days money-back guarantee
* 3 years hassle-free warranty
More details about Lasfit off-road lights warranty
What we want you to know about Lasfit LED pod lights
Reliable-Quality, Trustworthy-Brand.
Lasfit LED pod lights are used the best metal material and manufacture craft, which guarantee the heat-dissipation system and stability when they are working. Lasfit 3'' LED Pod Light has a long lifespan of up to 70,000 hours. The lights are waterproof with an IP67 rating which help protect the pods from rain, slush, snow, and moisture intrusion. Water will not enter the lamp body, even in extreme weather (tested temperatures from -40 to 185 degrees F).
The 3" LED pod composition includes durable powder-coated aluminum alloy housing, stainless steel mounting bracket, and hardware.